500 Series Tableto
p
Stencil / Batch Cleaner
s
Heated wash for cleaning lead-free solder paste, pallets and adhesives

100% Stainless steel construction

Two model sizes to conserve energy, use less chemistry and generate less waste

Install in table top or free standing

Side-mounted "sweep frequency" ultrasonic transducers with 10-year warranty

Guaranteed cleaning

Spray and ultrasonic rinse capable

Easy maintenance and low cost

Cleans solder paste, SMD adhesives and post solder flux from stencils, pallets and misprinted PCBs.

Optional features to allow for custom applications
The Low-cost / Compact Stencil Cleaners
The 500 Series Tabletop Stencil and Batch Cleaners are designed for the SMT Assembler that is cleaning small stencils, tooling or low volume large stencils and desires improved and consistent cleaning of fine-pitch stencil apertures and reduced damage caused by manual cleaning. The 500 Series is also an excellent entry-level machine for users not able to purchase a fully automatic system yet require the cleaning efficiency of a Smart Sonic ultrasonic stencil cleaner. The 500 Series offers the same cleaning results as a semi automatic or fully automatic system without the added cost.
The 500 Series can be used free standing or mounted into an existing tabletop to conserve valuable floor space.
The Model 520 is designed to ultrasonically wash and rinse stencils up to 20" x 20" (510 x 510 mm) and the Model 529 will handle stencils up to 29" x 29" (750 x 750 mm). Both models can accommodate larger stencils by cleaning one-half at a time.
While other cleaning chemistries may be used, all Smart Sonic Stencil Cleaners are guaranteed to clean any type of solder paste from any fine-pitch stencil when using Smart Sonic's 440-R® SMT Detergent!
The Series 500 are the most affordable ultrasonic stencil cleaners…
and they
're a Smart Sonic!
500 Series Tableto
p
Stencil / Batch Cleaner
s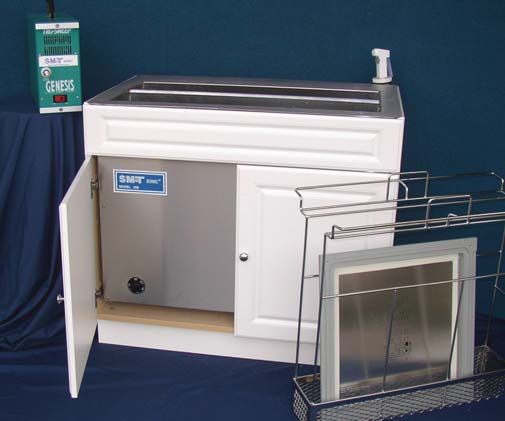 Shown mounted in Tabletop with optional Parts Basket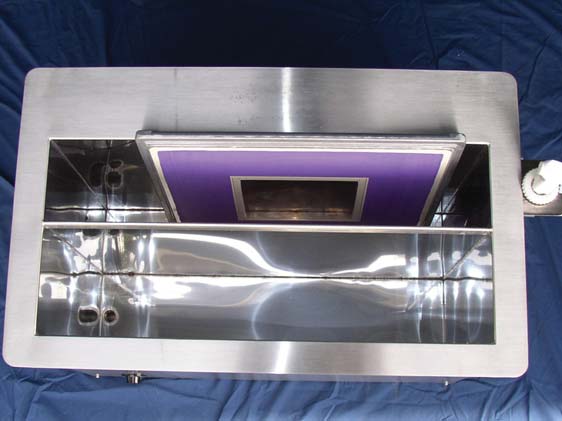 Wash and Rinse Tank Assembly
| | | |
| --- | --- | --- |
| Specifications: | Model 520 | Model 529 |
| Overall Dimensions | 21.8" x 35.5" x 25"H | 21.8" x 35.5" x 31"H |
| Wash Tank Dimensions | 6" x 31" x 21"H | 4.5" x 31" x 27"H |
| Wash Tank Capacity | 14 Gallons (53 liters) | 14 Gallons (53 liters) |
| Maximum Frame Size | 20" x 29" (510 x 750 mm) with one cycle | 29" x 29" (750 x 750 mm) with one cycle |
| | 29" x 34" (750 x 860 mm) with two cycles | 29" x 48" (750 x 1220 mm) with two cycles |
| Utilities Required (Models 520 & 529) | | |
| Electrical | 120 Volt, 1 Phase, 12 Amps | Available Options: |
| Water (w/ optional Hand Spray) | 30 PSI | Misprint fixture |
| Air (w/ optional Air Blow-off) | 20 PSI | Parts Basket |
| Average Wash Cycle Time | When Using 440-R SMT Detergent | Wash/Rinse Filtration |
| Wet solder paste | 1 – 2 minutes | Power Drain |
| Dry solder paste | 2 – 4 minutes | Hand-held Spray Rinse |
| Wet SMD adhesives | 2 – 4 minutes | Hand-held Air Blow-off |
| Post solder flux build-up | 2 – 5 minutes | EnviroGuard Filtration |
RETURN to SMarT Sonic Home Page
Specifications subject to change without notice. © Smart Sonic Corporation 2008
Other Smart Sonic Products:
440-R SMT Model 1500 Model 6000 Model SE-1 Detergent Stencil Cleaner Stencil Cleaner Evaporator


SMART SONIC CORPORATION


6724 Eton Avenue Canoga Park, CA 91303 U.S.A.
HK& China sole agent:
ELECTRONICS TRADING & MFG CO., LTD.
TEL: (852) 22320623 FAX: (852) 23140048
E-mail: smt@electronics-trading.com Web Site:http://www.electronics-trading.com