熔锡表面活化剂
(拥有美国和全球专利)
同传统的还原粉,还原油,锡渣分离机和氮气设备不同,
MS2®熔锡表面剂不是减少波峰焊锡缸里的锡渣,而是完全消除锡渣。
通过完全消除锡渣,MS2®熔锡表面剂可以让使用它的客户减少最多70%
的锡条使用量( 根据生产产量而定),产生显著的成本节省效益。
高温焊锡接触到氧气,产生锡渣。锡渣由氧化物加上可利用用的金属构成。
可利用的金属同氧化物结合到一起,影响焊锡性。这种混合物占锡渣重量的
70%以上,一般一台波峰炉每小时可产生0.6-1KG锡渣
立即的投资回报 ROI
MS2® 熔锡表面剂可适用于有铅和无铅制程,它无毒,不挥发,是
一种停留在锡炉熔锡表面的有机液体
首次使用量约为200–300毫升;后续每班1-2次加入100毫升左右新鲜MS2®熔锡表面剂补充。
MS2® 熔锡表面剂加入到锡槽后,它阻止锡渣在熔锡表面产生,
同时对锡槽其他区域产生的锡渣,立
即还原成可用的金属;所以使用MS2®熔锡表面剂后,不
再有锡渣累积在锡槽,而是将锡渣全部还原成可用的金属

而且,通过泵不停地循环熔锡,MS2®熔锡表面剂持续消除锡槽里的金属氧化物,
清洁和净化了锡槽。这将会降低熔锡表面张力,增强润湿性,降低焊锡不良率。
由于MS2®熔锡表面剂不停将锡渣转化成可用金属,一段时间后,
它会变的黏稠,用漏勺可以很容易清理。这少量的废弃物可以送回到
P. Kay Metal和其指定代理商。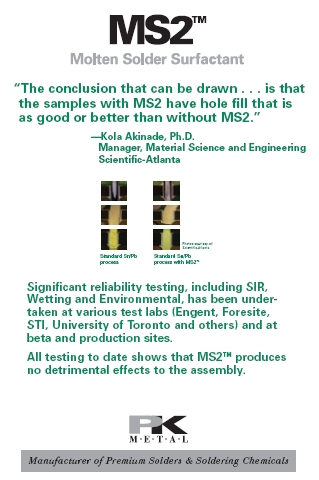 Q. How much MS2 can I expect to use?
A. While exact usage depends on machine configuration and time of use per day on average you can assume that a machine generating between 2.5 and 3.0 Lbs of dross per hour will consume 1 liter of MS2 per 40 hours of operation. One liter will usually reduce 45 Kg or 100 Lbs of dross back into useable solder.

Q. How does MS2 work?
A. the active ingredients in the MS2 complexes with metal oxides in the solder bath dross and render them soluble in the bulk material. This material is also unique in its dual role as a heat stable oxygen barrier and as an oxide scavenger. MS2 works with no discernible smoke or odor if used within normal solder pot temperatures. Right out of the bottle MS2 is non-toxic and non-irritating and the resulting spent organometallic waste presents no inhalation or contact hazard.

Q. Does MS2 mix with the solder?
A. No. Not only do we know that because of the chemical formulation we have also confirmed this through numerous independent lab tests. Lab test data is available from P. KAY Metal.

Q. Does MS2 normally contact the assembly being soldered?
A. No, MS2 does not mix with the solder or travel over the wave.

Q. How do I clean MS2 from a board or assembly if I mistakenly do so?
A. MS2 can be removed from circuit boards with a solution of hot water and 4% Environ Gold 816 saponifier.

Q. How do I clean MS2 from tools or machine components?
A. MS2 can be removed from machine components or tools by cleaning with a towel while the item to be cleaned is still warm.

Q. Does MS2 corrode or have a detrimental effect on the materials that compose the solder pot?
A. No

Q. Can MS2 be shipped by air?
A. Yes. There are no restrictions on shipping MS2 by any normal means.

Q. Is MS2 flammable?
A. No, MS2 is not flammable.

Q. Is MS2 conductive?
A. MS2 is not applied to the board and leaves no detrimental residue so this is not normally a concern. Extensive SIR testing has been performed through independent labs. It is not conductive in the fresh or unused condition. However, as it becomes spent it contains metal oxides and possibility flux residues that can be conductive. Of course, dross is also conductive.

Q. What are the equipment manufacturer positions on MS2?
A. Most have no position just as they have no position regarding the brand of solder used. We have had a comment that Our machine does not generate dross so why would the customer use MS2? If everyone used MS2 than our dross free machine would loose its advantage. Frankly we are still looking for that dross free wave solder machine.

Q. How should the small amount of MS2 be handled?
A. While the amount of spent MS2 will equate to a tiny fraction of the dross that would have been generated there will be a few hundred milliliters per day of spent MS2 depending on production volumes. The spent MS2 should be returned to P. KAY Metal or our distributors for return to an authorized recycling center.

Q. Is there any special labeling for spent MS2?
A. Spent MS2 contains oxides of the metals that would be found in the specific solder pot therefore we recommend labeling it as you would dross

Q. Is the spent MS2 considered hazardous?
A. As noted above, the spent MS2 contains oxides of the metals in your solder alloy therefore, for example, spent MS2 that has been used to eliminate dross in a leaded alloy will contain lead oxides and should be treated accordingly.

Q. How is MS2 different from the powders and oils that have been used in the past?
A. MS2 is a process chemical that not only inhibits dross formation but actually reduces dross back to its native metals as it forms. There is no similarity of chemistry between the older materials and the new technology MS2.

Q. MS2 is not a low priced material, how can I calculate my savings when using it?
A. A simple calculation is to determine how much 100 Lbs (45 Kg) of your solder costs as that is how much dross a liter of MS2 reduces back into useable metal. Deduct the cost of that much solder from your cost of one liter of MS2 and you will have a gross savings number. This of course does not take into consideration the significant savings eliminating dross related rework and reducing maintenance as well as increasing throughput will save. P. KAY metal has a savings calculator available for use on the Companies web site that you can use for a more precise calculation.
Q. What is the shelf life of MS2?
A. The shelf life is in excess of two years.

Q. Are there storage temperature limits while storing MS2?
A. The material should not be allowed to reach temperatures below 35 degrees F as some components may separate. There is no practical upper limit to the material within all normally accepted storage conditions. The material is stable at high temperatures. (Continued from page 2) (Continued on page 4)

Q. Why is MS2 200LF so much more expensive and why does it not contain lead?
A. The original formulation was optimized for lead free alloys. It was thought that with lead free solders being so expensive that MS2 would find the most market acceptance in that area. We soon found out that those using leaded solder had a great deal of interest in MS2 also. The price of the MS2 200 LF (for lead free) was to high for economical use with cheaper leaded alloys therefore a less pure, lower cost version, one that did not have to be optimized for lead free RoHS compliant alloys was developed and offered to the market. MS2 200LF does not contain lead because it is purified and optimized differently than the 100Pb which will pick up lead in a cheaper quicker puri f i c a t i o n p r o c e s s .

Q. I see that there is a carbonized ring visible on my solder pot after using MS2. Is this normal or harmful?
A. This is normal. Dross is not a clean byproduct. MS2 is far less messy than dross but it can leave some residues which are easily reduced during normal maintenance. The carbon ring or material that you see has no long term effects to your solder pot or process.

Q. what happens if we completely turn off our pots at the end of the day or for the weekend?
A. Letting the solder cool with the MS2 in place is not a problem unless the metal cools to the solid state. When cooled to the point of being solid the metal can shrink away from the edges allowing MS2 to seep in between the metal and the walls of the solder pot. While this will not harm the pot the trapped MS2 will temporally give some smoke while the pot is re heating. If the pot is allowed to cool to solid we recommend using a P. KAY metal supplied retainer ring or simply remove the MS2 until the pot heated to near operating temperature once again.
FAQ 常问问题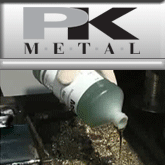 点击相片为 PDF 海报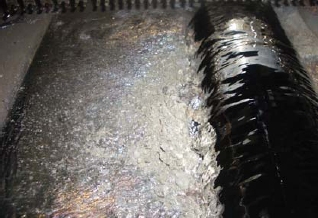 在没有MS2®溶锡表面溶剂的无铅锡槽之下,呈现典型的锡渣增大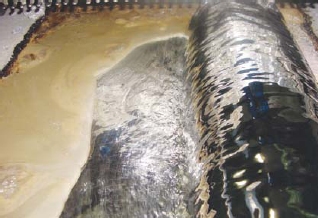 在没有MS2®溶锡表面溶剂的无铅锡槽之下,呈现没有锡渣—仅仅有光泽的焊料